Your service advisor is the superstar of your shop. They are the smiling face that greets your customers and they are your technicians' right hand. It's their positive attitude that makes them shine, as well as their unique balance of communication skills and technical aptitude.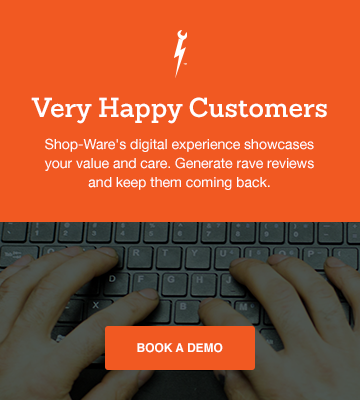 When searching for that ideal candidate, industry experience is always a plus. However, it shouldn't be the main focus - skills are teachable. When hiring for experience only, you might end up with another shop's underachiever or poor performer. Your service advisor is a critical component to your shop's operations and their success is your success.

5 key attributes that will make a big difference when you're hiring for this role:

#1: Positive Vibes
Your service advisor sets the tone for your entire shop, or at least for the customer side of things. They need to have the ability to multitask, handle pressure with a smile, and can deal with technical issues and problems that arise. It's almost like hunting for a unicorn, only this person really does exist. Something as simple as a good attitude can raise your ticket costs and increase your customer count.

#2: Possesses Passion
Obviously, you can train someone on the elements of service writing. However, if they already have some knowledge or interest in cars, no matter how basic, they'll be a step ahead. And if they're mechanically inclined, even better. Say you're stuck between one or the other, well, then it comes down to the personal needs of your shop. Just remember that you can't really "teach" people skills or a positive attitude. But, if your candidate has a great personality and a passion for learning, you can mold them into your service writer superstar.

#3: People Person
Part of the service advisor's job is fixing people's problems, not just their vehicles. Therefore, you need to hire someone for the role who is capable of handling people in all situations. Choose someone who is good at keeping things calm and dispelling tension when customers are dissatisfied, and someone who can prevent that from happening in the first place. The service advisor is the face of your shop and their positive attitude will set the bar for your customer's journey.

#4: Technically Inclined
While being tech-savvy to the point of building their own computers is not a must, your candidates should possess some technical aptitude. They should be able to quickly learn and adapt to a cloud-based SMS platform, like the one that your shop uses. If you are thinking about upgrading to the cloud or integrating a new platform, hiring someone with relevant experience will be helpful in this transition.

#5: Mr. or Ms. Meticulous
Like people skills, structure and attention to detail are qualities that can't be taught. Your service advisor's organization, or lack of, can make a big impact. If a work order is misplaced or not documented correctly, the entire shop is off-track. This could cause some friction on the customer's end as well. It's an inherent trait that is hard to gauge during an interview. Prepare a series of questions, including requests for examples, that will give you a sense of how they manage their time and workload.

Excellent communication, the ability to learn quickly and retain information, as well as an overall positive outlook are five-star traits to look for in any new hire. It's important to understand which qualities best serve your shop's needs and really drill-in on the questions that will help you select the best candidate. Sometimes, having passion and a drive to deliver their best will speak volumes over work experience.

Reduce their your new hires' learning curve and maximize their efficiency with Shop-Ware.
---
Shop-Ware as the Solution
Did you know that Shop-Ware's Shop Management Software provides complete transparency from the shop to your customers? With our responsive, mobile-friendly design, you can engage with customers instantly on their devices. Repair approvals are sent digitally and approved in no time, cutting back on outbound calls.

Our digital workflow helps reduce human effort and eliminates mistakes. You will get cars through faster, saving you time and increasing your bottom line.

If you'd like to learn more about implementing Shop-Ware as the solution in your shop, request a demo.