An In-Depth Guide to Shop-Ware Analytics
By Monique Mondragon-Tafoya, Shop-Ware Sales Manager
Today, I want to talk about Analytics, and all of the awesome ways we can help a shop view their metrics. I like to tell shops that Shop-Ware is the scan tool of their business. It's easy to diagnose problem areas, and reprogram accordingly.
Shop-Ware allows you at-a-glance access to data from anywhere, the ability to see your business performance across time, and it lends you a keen eye to identify trends. In turn, this gives you the ability to drill-down and gain actionable information.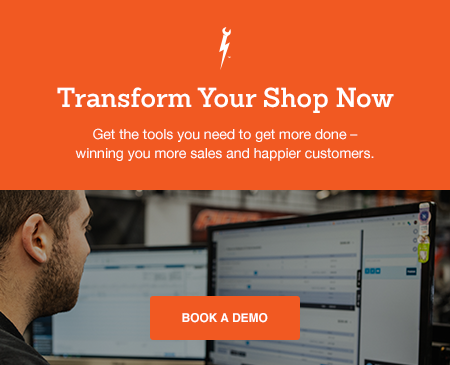 I love showing shops their Close Rate and Upsales.

The close rate, for example, will tell you that with every $1,000 that your tech recommends, your advisor is able to sell $400, giving you a 40% close rate. The sell through highlights the upsell when your customer comes in for an oil change (indicated in yellow) and you're able to sell them a water pump (indicated in green). This gives you a very clear picture of what your advisors are converting.
Another dashboard that is unique to Shop-Ware is Speed of Service.

No other system can give this information because:
Shop-Ware shops have the option to go 100% paperless

All user actions are timestamped, allowing the software to capture the cycle time
Now, you can get an average estimate of how long it takes to get vehicles through your shop. In addition to tracking the time it takes the vehicle to cycle through, you can also see how long it takes them in each stage.

Instantly find the bottlenecks in your shop. For example, parking is a problem for a shop in San Francisco. If cars are sitting there for almost 9 hours, the shop will need to get that number down.

Shop-Ware Analytics can also be used to pull important data for marketing purposes.
You can quickly access your top makes, models, and years to see where the primary source of your revenue is coming from and send marketing promotions to owners of those vehicle types.
The very best thing about Shop-Ware is that it pays for itself with just one feature - the Aging Report.
In an instance where 78% of new customers haven't visited in over 18 months, you'd simply click on that number and instantly have a list for marketing! It's awesome busy work for your service advisor on a slow day. Say you get one customer to come in from calling/texting that list, with an ARO of $820. That right there is more than the cost of one month's service on Shop-Ware's Master plan.

One of my favorite coaching reports is the Close Metrics.
It's hard to gauge whether your techs are recommending work, and then whether your advisors are able to sell the work they recommended. I love this report because it gives me a crystal-clear picture of what's going.

For example, looking at Shelbert's number of recs approved vs. recs not approved, it appears that he is recommending a lot of work that does not get approved. Without understanding details, this might require a PIP or other actionable consequence for Shelbert as it relates to his KPIs.
With Shop-Ware's Close Metrics, you can dive in deeper and see exactly what the root of this problem is.
Now, look down at the value ($) of recs per RO, and you will see that more work is approved ($) than what is not approved. This tells us that customers are approving recs larger in value. It's clear as day that Shelbert struggles with converting the smaller jobs and this issue can be addressed specifically.
Advanced Analytics gives you the ability to see your business performance at a glance, and to drill into the details you need to uncover opportunities and problems. Owners of multiple locations get a consolidated view of all of their shops and employees in one place, accessible from anywhere.
If you'd like to see certain data in certain ways, or if you have a question for a specific analysis or marketing campaign, we have the ability to create custom reports. Shop-Ware Analytics also integrates with Shop Fix Tracker, ATI Dashboard, 180BIZ, and Bosch.
Simplify Your Workday With Shop-Ware
Shop-Ware is user-friendly and helps to streamline your shop management. With a history in automotive repair, Shop-Ware's team knows what you need from a shop management system and what it takes to make things run smoothly every day. As Shop-Ware founder Carolyn Coquillette says, "it's our mission to make the daily lives of our workforce as productive and enjoyable as possible, so we can accomplish the hard work of fixing cars and get appreciated for it: publicly, personally, and financially." Stop losing great workers to fixable situations. Request a demo.