How well you communicate with your customers can make all the difference when it comes to rave reviews and repeat customers. One of the most important parts of communication is presenting repair results and diagnostic information in way that's clear and easy to understand.

Without a clear understanding, customers aren't able to make informed decisions about needed repairs and their lack of understanding could result in negative reviews. Here are a few ways to help your customer feel supported and informed.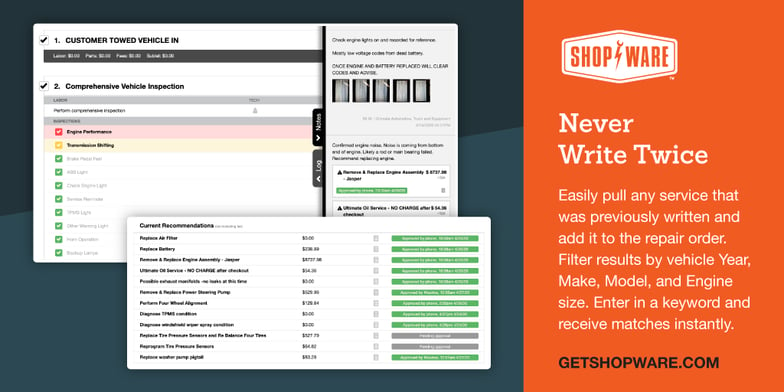 Be Their Advocate
Perception is everything. You can either come across as taking advantage of your customer's lack knowledge, or the one in their corner. Make sure they see the car as the problem and not you, the service provider. When you take the time to help people understand why you're doing the work you do, the value of your service won't be questioned.

Arming your customer with information and placing decision-making power in their hands does just that. In this clip from a recent webinar, Shop-Ware CEO Carolyn Coquillette explains why placing customer states in your RO can be death to value perception:
Be Transparent
Your customer's vehicle was likely a major investment for them. So it's only fair they'd want to know what they're paying for and that you aren't just charging them for the fun of it. This is where how you communicate can be a game-changer. Hearing about a problem is one thing, but seeing is believing.

The Shop-Ware platform makes it easy to document problems and the repair process with photos and videos and share it with your customers. Scott Brown, owner of Connie & Dick's Auto Repair, further explains the impact emphasizing digital content can have on customer perception in this clip from our webinar on Showcasing Your Shop's Technical Expertise:
Make it Easy
You can't change the repair process, but you can change your customers' experience with the repair process. A cloud-based SMS like Shop-Ware makes the repair process painless for the customer. They can monitor progress in the repair process through chat and digital content sharing capabilities, instantly approve recommended repair with a push of a button and pay without even setting foot in the shop.
If you're ready to change the way that your shop does business and give your customers the speed and solutions they deserve, schedule a Shop-Ware demo.