Meet Fisk Automotive
Today we're shining the spotlight on Fisk Automotive in Fullerton, CA. Jack Crawley, Owner and President of Fisk Automotive, is an ASE Master Technician. Jack worked his way from the ground up. His interest in cars began in a high school auto repair shop. From there, he obtained a part-time job sweeping floors in a local car repair shop.
More than 35 years later, Jack is now the owner of Fisk Automotive. Fisk Automotive is a modern, clean, and well-equipped shop with a mission of taking care of the clients first and foremost. Stepping inside, you'll find 8 bays with a variety of lifts. Fisk Automotive is the only ASE Blue Seal Certified automotive repair facility in Fullerton. They are also a Southern California AAA "Approved Auto Repair" (AAR) facility, Repair Pal certified, and a member of ASCCA.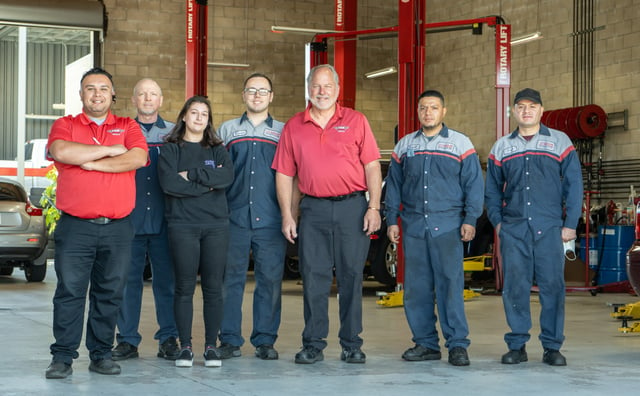 The Challenge
Prior to discovering Shop-Ware, Fisk Automotive was like a lot of other shops out there – strapped for time. Between chasing customers down on the phone, wondering, "Does anyone not screen their phone calls these days?" and hustling to compile ROs, they were spread thin. Fisk Automotive was in need of a way to get more cars through the shop – and fast. On top of this, Jack needed to drive more 5-star reviews, a challenge many shops are faced with.
The Results
After noticing his current SMS was becoming seriously outdated, Jack gave Shop-Ware a try. Once on board with Shop-Ware, Fisk Automotive noticed an immediate spike in estimate approvals along with significant time savings on customer communication. What used to take his team days to get approvals was now taking just minutes.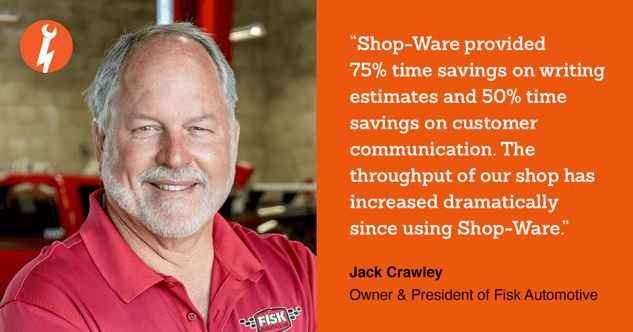 When it comes to the Shop-Ware + Broadly integration, Jack was quick to note that they didn't have anything like that before. Fisk found that Broadly's 'Chat with Us Now' feature was an incredible way to attract new business and drive conversions for his shop. Even better was the ability to monitor and respond to customer reviews at record speed.
*All images courtesy of Fisk Automotive
The Takeaway
Fisk Automotive was definitely struggling to manage staff's time, attract new business and drive 5-star reviews, but Shop-Ware + Broadly got the job done. After implementing the software, Jack watched business take off. He now finds it important to refer other shops to Shop-Ware. Jack notes, "Everyone is trying to up their game, there is no doubt about it. If you stand still for a moment, you're done. That is what our last program did."
---
Shop-Ware as the Solution
Shop-Ware provides professional-grade business solutions to the automotive industry's leading repair shops so they can run entirely on the cloud; phone optional, and paper-free. Connecting the aftermarket together, Shop-Ware's ecosystem enables next-generation shop efficiency and customer satisfaction without compromise. Full-service onboarding and best-in-class support provide everything a shop needs to transform its business and stay competitive long into the future.
If you'd like to learn more about implementing Shop-Ware as the solution in your shop, request a demo.