Auto repair is a high dollar, high value transaction. Your customer's sensitivity about how much it costs, and why, is never more important than when you ask them to pay the bill. While this conversations can sometimes feel awkward or uncomfortable, it's important that you don't fall down and cheapen your services at the final step.

Shop-Ware now offers a solution that helps you showcase the value and sophistication that you invested throughout the repair.

Learn more about Remote Pay in the replay of our webinar Tips for Adapting to Contactless Service in Your Automotive Repair Shop, which aired live on Tuesday, May 5th.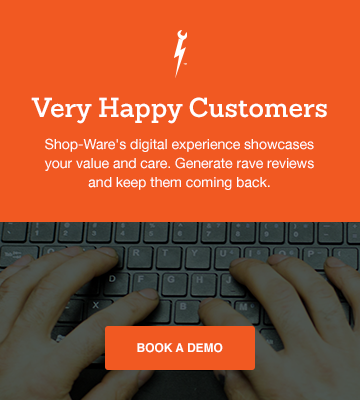 Introducing 'Remote Pay' by 360 Payments
Typical of Shop-Ware's customer transparency and real-time interaction, the transaction occurs directly from the online repair order. Customers don't have to "go" anywhere else, or have a disconnected experience from what they used to buy in the first place.
Easy as 1-2-3
This seamless, integrated process eliminates questions, concerns, and hesitation. Quick and easy:
When the job is done and a balance is due, you may "share" the repair order, same as always. With Remote Pay enabled, the customer will be able to review the entire repair order, including all services and inspections performed, notes, photos/videos, approved recommendations, and the grand total with the balance due.
They will see a "checkout" button that leads to a clean and friendly credit card entry form, with a summary of charges.
When the charge is processed successfully, they are directed to a 'success' page with a thank you for service; a means to view their receipt, and return to the repair order.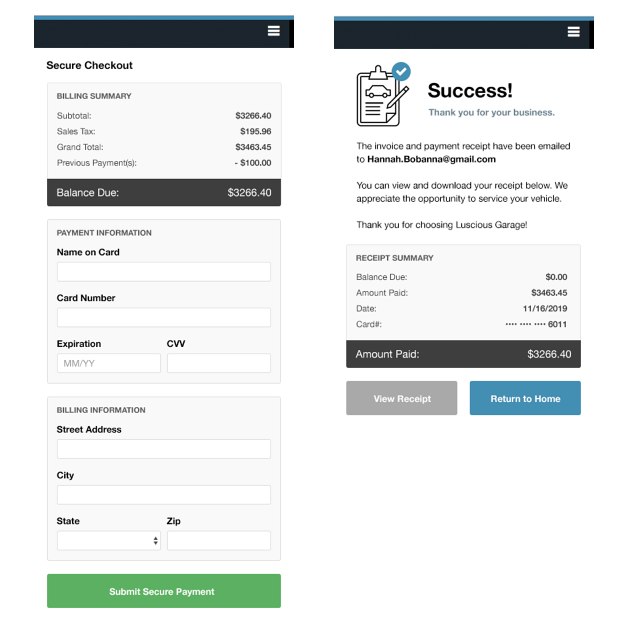 Best of all, using Shop-Ware you can share the repair order any way you wish - via email, text message or by using a special link.
Don't disconnect your value from the request for payment. Give your customers a consistent, seamless, and reassuring experience when asked to pay, with total flexibility on how they prefer to be reached.

Read full release notes.
Shop-Ware as the Solution
If you're ready to change the way that your shop does business and give people the speed and solutions that they deserve, contact Shop-Ware today. Our digital experience ensures that your repair shop is ready to provide transparent, efficient service to all customers, increasing your profits and reducing your operating costs and wasted expenses. With our responsive, mobile-friendly design, you can engage with customers instantly on their devices. Repair approvals are sent digitally and approved in no time, cutting back on outbound calls. Our digital workflow helps reduce human effort and eliminates mistakes. You will get cars through faster, saving you time and increasing your bottom line.
If you'd like to learn more about implementing Shop-Ware as the solution in your shop, request a demo.